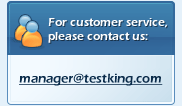 "Thanks for the phone call and time you spent with me finding the right solution for our new training center... we will be using the Testking Q&A with all of our Cisco courses. We really love the ease of using the control panel, and we still maintain control over the sale price. Its perfect!"

- Michael W.
(Cisco/Networking Training Coordinator)

"In the beginning I thought that managing customers would be a chore, but its really easy. Now I find myself suggesting new testking.com products and using the mark up to pay for my CCIE certification."

- B.J.

"I am making a great living at marketing Info Tech certifications training, and by far testking.com products are the easiest to interest people in. By setting my own retail price, I have been able to generate more sales by adjusting the prices when the situation allowed. We both have many happy customers. Thanks!"

- Joe Whedon