list($rem_login_value,$rem_login_check)=getRemLogin(1); ?>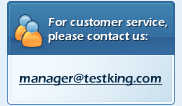 "Thanks for the phone call and time you spent with me finding the right solution for our new training center... we will be using the Testking Q&A with all of our Cisco courses. We really love the ease of using the control panel, and we still maintain control over the sale price. Its perfect!"

- Michael W.
(Cisco/Networking Training Coordinator)

"In the beginning I thought that managing customers would be a chore, but its really easy. Now I find myself suggesting new testking.com products and using the mark up to pay for my CCIE certification."

- B.J.

"I am making a great living at marketing Info Tech certifications training, and by far testking.com products are the easiest to interest people in. By setting my own retail price, I have been able to generate more sales by adjusting the prices when the situation allowed. We both have many happy customers. Thanks!"

- Joe Whedon



How does the reseller's program work?
The Testking Reseller program is designed to put you in control of Testking products and services, and market them to your contacts or clients. Testking will sell you products and services at a wholesale rate*, allowing you to charge whatever fee you desire to your own clients.

* The Testking Reseller program operates on a Wholesale Rate system which operates on points. As a Testking Reseller you are responsible to pay for the products and services that you will be selling before it reaches the final end-user. You purchase points from your Admin Control Panel, and use those to make purchases of products and services.

One point equals one dollar in the Testking Reseller system. You purchase points at the same exchange rate of one-dollar purchases one point. However, you receive a 25% Testking Reseller Reward for each funding transaction. When funding your Testking Reseller account for $100.00 or 100 points, you will actually receive 125 points after the transaction is complete. This is how the Wholesale Rate is achieved.

Top performing Testking Resellers or special events throughout the year may also trigger additional points being added to your Testking Reseller account.

Upon the need for a refund of any unused money you have deposited into your Testking Reseller account, you will be refunded based upon the amount of points purchased (dollars paid), not based on the number of points in your account. Funding your account for $100.00 and then requesting a refund will not gain you $125.00, based on the 125 points you will have accrued. It will gain you $100.00 based on the amount you actually have paid.

As a Testking Reseller, you are responsible for the sale and initial care of any customers you sell to. Once a product has been activated, Testking will provide technical and customer support for any services, if you desire, at no additional charge.

Testking Resellers deposit funds into a Testking Reseller account, and you access products for resale through those funds. You can pre-load you account to make ordering and distribution quickly, or simply add funds as needed before each sale.

A Testking Reseller account is generally used by people or business in direct communication or have human-to-human contact with the final customer. You do not need a website to open or maintain a Testking Reseller account, however you will need internet access and a funding source, such as a credit card or PayPal account.

How is it different from the affiliates program?
The Testking Reseller account is designed for businesses or people in the position of dealing with the final user on a one-on-one scenario. A Testking Reseller takes care of product promotion and facilitates the sale of products, as well as delivery of the product or service. Resellers are able to charge any amount they desire for Testking products, and keep the markup from the wholesale price they are charged by Testking. There are no limits to the number or products or clients that the Testking Reseller can administer through the Testking Reseller program.

Testking Affiliates are internet marketing specialists or web site owners who want to capitalize on the Testking brand name by directing traffic through the use of affiliate links and banners, to the Testking web site. Commissions are paid based on the final sale, which Testking facilitates. There is no limit to the number of visitors you can send to Testking, or limit on commissions earned.

Which program is right for me?
If you are in the position to be communicating with customers and directing them towards which products will best suit their needs, and can process payments for sales that you generate, then the Testking Reseller program may be right for you.

If you are a web site owner, contributing member of a technical forum, blogger, or an internet marketing specialist, then the Testking Affiliate program may be best for you.

As a Testking Reseller you will be creating revenue from the markup in product prices from the Testking wholesale price. Testking will sell you products at a huge discount, while you determine how much to charge your clients for. As a Testking Affiliate you will be earning commissions based on sales made from the traffic you send to the Testking web site.

Both programs have excellent earning potential, however they are divided along the lines of customer contact. If you are able to facilitate the sales of Testking products, then the earning potential of the Reseller program is aggressive and hands-on. If you prefer a more passive approach, and have no desire to actively participate in sales, then earning 25% commissions on sales through your affiliate links is optimal.

Is there a fee for joining?
There is absolutely no fee for joining the Testking Reseller program. You will however be required to deposit funds into your Testking Reseller account in order to make purchases from the Testking wholesale store.

Testking will not charge you a membership fee or dues of any kind to participate in the Testking Reseller program. Any fees you incur however from your internet service provider, web host, bank, or other institution that enables you to be in business for yourself, are your responsibility.

Why must I make a deposit?
In order to make the payment process and delivery of services from Testking to your client as seamless as possible, we remove the step of making separate payments for each and every transaction you make. After your initial deposit of $300.00 USD or more, you can make additional payments for any amount you desire to anticipate upcoming sales.

The initial deposit made into your Testking Reseller account is handled by our processor and fraud department, to insure that you as the Reseller, and Testking as your distributor, are protected from the complications of charge backs, fraud and identity theft.

Who holds on to my deposit? How do I know it's safe?
Deposits and unused funds from deposits are stored in an escrow account. This enables Testking to provide funds immediately as necessary to reverse charges, make refunds, and to settle balances on closing accounts.

Do I get my deposit back? If so, when?
Your deposit is added to the funds you will use to purchase Testking products and services. Any unused portion of your deposit can be returned to you after 30 days of inactivity.

If you need funds returned from your account, or have special needs or conditions, simply contact support@testking.com for immediate assistance and options will be made available for releasing any unused funds in your Testking Reseller account.

How do I pay for products I purchase to resell?
Products that you purchase are done so through the Testking Reseller administration panel. Through your administration panel you have the ability to create new user profiles for your customers. Once you have started the customers creation process you can allocate Testking products and services to their new accounts. Adding these products will debit your Testking Reseller account the wholesale price for each product or service added.

You must have enough funds in your Testking Reseller account in order to allocate a product to a client.

Are greater discounts available for greater volume?
Testking rewards performance on many levels in both the Testking Reseller and Testking Affiliate programs. If you are anticipating a large sale, or are consistently making a large volume of purchases/sales, then we definitely want to discuss more lucrative options that are mutually beneficial.

If you think you are excelling as a Testking Reseller and we have not contacted you, please feel free to contact us at any time to discuss performance bonuses or options. Send an email with a brief introduction to support@testking.com.

Will I incur any risk of loss?
There is no risk of loss concerning your deposits and funds held with Testking for product purchasing. There is also no risk of loss regarding the Testking Guarantee, as Testking will supply any necessary replacement tests or exam preparation materials.

However, you are the only one responsible for setting your prices and fees that you determine to bill the client. If you set your prices lower than the wholesale price, or if you incur processing charges, and you have not marked up your products, then you will begin to run a negative trend in your accounting.

For example, if Testking sells you a Questions and Answers product for $15.00 and you decide to sell the product to a customer for $5.00 then you have in effect created a negative cash flow for yourself of $10.00. Testking does not regulate or check your pricing. In fact, Testking has no way of checking your prices whatsoever. You can charge more than the Testking retail prices, or nothing at all.

Will I have to provide customer support?
Testking Resellers provide all of the pre-sales support with their clients. Once the sale has been facilitated, Testking Customer and technical Support Specialists are ready to assist the client, or you with products, services and maintenance.

When your client's products are ready to expire, it is your responsibility to renew that product with them, rather than have them renew their products through the Testking web site. Your intervention and communication with your clients is key to maintain your relationship and insure your earning potential.

Testking will provide basic customer support and technical assistance, as well as fulfilling the Testking Guarantee. If you do not wish to have Testking provide customer support, or communicate with your customer then you will need to make certain that your customer is aware of your intention to handle all support - and Testking will assist you in providing support to them behind the scenes.

What happens if one of my customers fails? Do I have to honor the TestKing guarantee?
If one of your customers fails their exam, Testking will honor the 100% Pass Guarantee. Testking will make available through you a comparable product, or credit your account the proper amount of funds to supply the product replacement. You are required to fulfill this commitment if they indeed fail and request the redistribution. Every customer who fails and wants a replacement product must provide the proper verification and proof that they took the exam, where, and evidence of their failing score.

How are the products delivered to me?
Testking products and services are accessed from within a registered Member's Area. You will create new user accounts, making Members' Areas available. Products and services you allocate to these users will appear in the Member's Area of each new user/customer.

You personally will not have access to the products that your customers purchase, other than through the administration panel.

Allocated products immediately debit your account and begin the activation timer which is tied directly with the expiration date.

How do I deliver products to my customers?
As a Testking Reseller you will use the administration panel to create or edit user accounts of your customers. You are able to allocate new products and services, or extend/renew existing products and services with the funds in your Testking Reseller account.

Allocated products are then accessed by the end user/customer through the Member's Area created for them at the Testking web site. The customer uses the username and password that you have created for them, to obtain their products and services. Additionally the Testking site will send them an email message with their account activation info.

The Testking Member's Area keeps a running total on remaining time in a product subscription. When a Testking product or service is preparing to expire, the user will be alerted and can extend their subscription by three months for a 50% discount. If a Testking product or service does expire, it can be renewed for three months, also at a 50% discount. The product extension or renewal can be purchased through you the Testking Reseller, or through the Testking web site. You are not rewarded for customers renewing products through the Testking website. It is your responsibility to make certain your customer is aware that they should repurchase products through you, and not the regular Testking system.

How do I get started?
To become a Testking Reseller simply fill out the application form using a valid email address. After your account is created, you will be required to make an initial deposit of $300.00 USD or more into the Testking Reseller account. Once the first deposit has been made, you will be able to begin creating and distributing user accounts and Testking products and services.

If you have any questions regarding the Testking Reseller program, or are having difficulty setting up your account, please contact support@testking.com for step-by-step assistance.

Do my customers have to access the Testking site to get their products?
Yes, all products and services are accessed the first time through the Testking web site. Once the product has been downloaded however, they can continue to access the product or service from the executable files installed on their PC. Testking products that are self-updating will continue to attempt to access the Testking site or servers for updated materials, however this is done in the background without the use of a web browser.

Do I have to have a website to have a reseller account?
Testking Resellers DO NOT need to have a web site. In fact, most Testking Resellers find that human-to-human communication is the easiest method to setting up their client for the sale and delivering their final product information.

Is there a markup limit I have to maintain? Can I sell products at ANY price I choose?
As a Testking Reseller you have absolute control over the price of your Testking products and services. Most Testking Resellers price their products just below the Testking retail prices on the web site, which encourages new customers to purchase from them instead of Testking directly.

You can charge as little or as much as you like, your wholesale price will not change based on the price you determine to sell at. In fact, Testking does not check up on your rates you choose to settle on. You can give Testking products away, or sell them for as little as $.01, or swing to the other end of the spectrum and charge your clients hundreds or thousands of dollars per product. The final price is up to you.

Do my reseller clients pay me, or pay Testking?
Your Testking Reseller clients will pay you directly. This allows you to accept funds any way you determine. Products are debited from your Testking Reseller account upon allocation provided you have sufficient funds in your account. Therefore you have prepaid for the products you are about to sell to your customers.

If a client decides to pay Testking directly for products and services, they become a Testking client and are not administrated by you. If you are not able to process payments, or cannot maintain pre-sales customer support, then the Testking Affiliate account may be better suited for you - while still earning a 25% commission on the sales (if they are directed to the Testking web site through your Testking Affiliate links or banners).

Do I get any benefit for referring other resellers?
Yes. Testking does reward referrals of new resellers. If you would like to refer an reseller to us, please email manager@testking.com to discuss your account and the new reseller you would like to have join.

I have signed up but I have some further questions who do I contact regarding help?
First of all, Welcome Aboard! If you are having difficulties, first read the contents of the Testking Reseller FAQ. If you continue to have questions that are unanswered or just need some personal guidance, please fill out the Contact Us form or email us at support@testking.com and we will reply to you ASAP.

When a Testking representative contacts you back, you may need to supply him/her with the username or email address you used creating the Testking Reseller account - please have that information available when you contact us. A Testking Representative will never ask you for your password.